The Maverick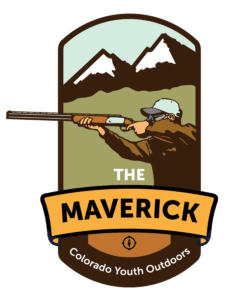 The Maverick 2017
May 5th & 6th
Colorado Youth Outdoors is pleased to announce that The Maverick shoot will be held at Sylvandale Guest Ranch once again. We will be holding our Friday evening horseshoe tournament at Swift Ponds and Saturday's banquet at Embassy Suites again.
A Maverick is someone who takes an independent stand for something they believe in. The Maverick is an event that stands for a cause that we can all support. The title of this event represents the uniqueness of this exciting two-day event. The title also represents the very spirit of COLORADO YOUTH OUTDOORS' MISSION, WHICH IS TO BUILD RELATIONSHIPS THROUGH TRADITIONAL OUTDOOR RECREATION.

This is no ordinary shoot; the 2017 Maverick is a professionally designed sporting clay course exclusively for Maverick guests! When you hear your shot bouncing off the mountains for the first time after hitting clays you'll know your experiencing The Maverick and its finest.
Friday and Saturday participating teams will enjoy all the hospitality and fun the event has to offer; The Maverick has become so well known for. Both days include some fantastic opportunities to promote your organization, thank your clients, or simply enjoy a day of unmatched entertainment with friends; both old and new. After the Friday Shoot, the teams will enjoy a reception, awards and a small raffle. Friday evening CYO welcomes all to come enjoy a horseshoe tournament at Swift Ponds.  After Saturday's shoot each team will receive eight tickets to Saturday's cocktail reception, banquet, raffle and live auction held at Embassy Suites in Loveland! Friday teams are welcome to join us at the Saturday Banquet, and we hope you do!