Our Story and Legacy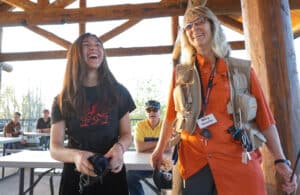 Colorado Youth Outdoors has been serving the Colorado community since 2001. CYO began with the recognition of the struggle that youth and their parents often have in connecting with each other. From our experience at CYO, we believe that traditional outdoor recreational activities provide an ideal environment for youth and their parents, or other significant adults, to strengthen their relationship. In 2010 CYO transitioned from a High School based program to a facility based program with the acquisition of Swift Ponds, a regional outdoor education and recreation facility, in Northern Colorado. CYO works with over 10,000 youth and families each year. With the completion of Richardson Hall, our Education classroom facility that number will grow substantially this year and into the future. We have CYO programming for Youth and Parents that runs in three week blocks year round. Our Alternative High School and Hispanic Family Outreach programs serve at-risk youth and their families in Fort Collins, Loveland, and Greeley. We run day programming for schools and work up to 40 non-profits in Northern Colorado providing facility and programming resources.
Along the journey, we came to the belief that what we are doing extends farther than the child/parent relationship. Our programs are bringing business partners, friends, child/mentor, and the community together. Here is what we do:
Foster and environment "Where RELATIONSHIPS grow."
Spend time together
Teach individuals about interaction
Teach appreciation for natural resources and conservation
CYO is a 501(c)3 nonprofit. CYO's programs engage individuals in outdoor activities, including fly fishing, trap shooting, fly tying, archery, spin fishing, camping, orienteering, survival skills and more. Building on the timeless lure of the great outdoors, CYO offers families an effective, healthy way to build great relationships and a lifelong love of recreation.
The objectives of our programming are:
Improved relationships and communication between the participants.
Improved connection with nature and outdoor activities
Increased interest in spending quality time with others in the outdoors while learning traditional outdoor activities.
Improved self-efficacy among participants.
We also currently host three large fundraising events annually – the Maverick Sporting Clays shoot, The Scoot, and Holes & Hops. While these events a revenue generators for the organization, they also serve to bring the community together and to foster relationship growth.
What we are not:
A fishing hole. A shooting range. Our passion is to have everyone who enters our gates leave with a better relationship with their peer, parent, mentor or friend when they walk back out of the gate.