PACD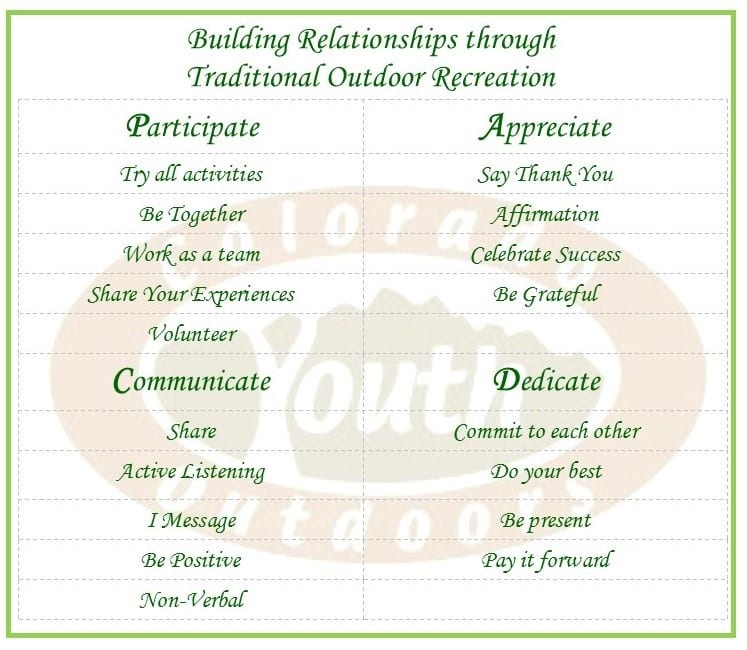 Since CYO is All about Relationships, we have developed a relationship curriculum that we incorporate into our Traditional Outdoor Recreation curriculum. Our content is presented as Pact/Packed/PACD. We make a Pact, an agreement with our participants, that our program will be Packed with fun and stimulating outdoor activities and opportunities to build relationships. Additionally, we will use PACD to equip them to work on building and strengthening their relationships. We incorporate the concepts above as a part of our effort to build relationships as our participants learn and enjoy traditional outdoor recreation activities together.
Quality Relationship Units (QRU'S):
We believe it is essential to be intentional about what you are teaching and want to achieve with your participants. With our focus on relationships, we start and finish our sessions with a focus on PACD, and build in life lessons and relationship examples into our activities. At CYO we run our core program in three-week ventures. These ventures are taught in two to three-hour blocks one night a week but can be done in six-hour one-day activities. We focus on one traditional outdoor activity and build in relationship building content and activities. At CYO we call this a Quality Relationship Unit, one hour of quality time learning and participating in a fun outdoor activity while building your relationship.
For more specific information click the links below