Northern Colorado Program
Our Core Programming, or as we like to say, our sweet spot is:
helping
families with middle and high school students build and strengthen their relationships while learning lifelong recreation skills. Our programming is structured in 12 to 15-week sessions in the fall and spring and runs in three-week Ventures. A Venture focuses on one traditional outdoor recreation activity and is a minimum of two hours in length. Activities include fly fishing, spin fishing, fly tying, archery, shooting sports, camping and survival, and orienteering. The programs are run in the evening, between 5:30 and 7:30, and require that a parent or significant adult participate with each youth attending. We also provide trained mentors to work with a parent who has multiple students attending or when a parent is unable to attend regularly.
TUESDAY AND THURSDAY CORE IS FULL!
Please email kbright@coloradoyo.org to be put on the waiting list!
All Tuesday and Thursday participants will begin with a required orientation at CYO Thursday, August 15 at 5:30
All Tuesday and Thursday participants will end with a Game Feast at CYO Tuesday, November 12 at 5:30
Tuesday Evening Programming Starts: August 20th
Thursday Evening Programming Starts: August 22nd
Programming Times: 5:30 PM – 7:30 PM
Programs are held at Colorado Youth Outdoors NE Region Campus Swift Ponds
Colorado Youth Outdoors would like to make our programming available to anyone who would like to participate and build their relationship. If the cost of our programming is preventing you from attending please click the link below.
Both nights of CORE are FULL. If you would like to be placed on the waiting list please email Kory at kbright@coloradoyo.org.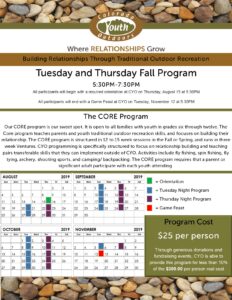 ---