Northern Colorado Program
Our Core Programming, or as we like to say, our sweet spot is:
helping
families with middle and high school students build and strengthen their relationships while learning lifelong recreation skills. Our programming is structured in 12 to 15-week sessions in the fall and spring and runs in three-week Ventures. A Venture focuses on one traditional outdoor recreation activity and is a minimum of two hours in length. Activities include fly fishing, spin fishing, fly tying, archery, shooting sports, camping and survival, and orienteering. The programs are run in the evening, between 5:30 and 7:30, and require that a parent or significant adult participate with each youth attending. We also provide trained mentors to work with a parent who has multiple students attending or when a parent is unable to attend regularly.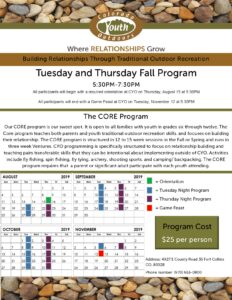 Upcoming Programs
All Tuesday and Thursday participants will begin with a required orientation at CYO Thursday August 15 at 5:30
All Tuesday and Thursday participants will end with a Game Feast at CYO Tuesday, November 12 at 5:30
Tuesday Evening Programming Starts: August 20th
Thursday Evening Programming Starts: August 22nd
Programming Times: 5:30 PM – 7:30 PM
Programs are held at Colorado Youth Outdoors NE Region Campus Swift Ponds
---